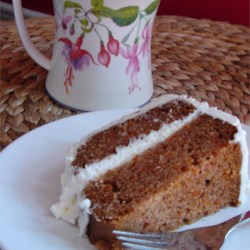 Within the next few days, Jeff will be home from a year-long deployment.
YIPEE!
This has been
the
longest year. We've had a lot of changes (grad school) and Murphy's Law has been around our house a little too much (flooded basement several times, new appliances because the old ones quit working, half of a tree blew down, the mango incident
~FYI~ mangos are related to poison ivy and if you're really allergic to PI, you shouldn't touch mango skin and rub your face...
I could go on and on... oh, and the garage door stopped working yesterday.) I am so
ready
for
it to be over and done with! So JP and I are anxiously awaiting a phone call. A watched pot never boils, and... well, a watched phone never rings!
Since Jeff is coming home, I'm making Carrot Cake.
It's Jeff's favorite.
And being the wonderful wife I am, I thought I'd whip some up. I've never made it before (and we've been married for 15 years!) I don't have a tried and true recipe, so I found one at
allrecipes.com
. Carrot Cake III has 5 stars and 2727 reviews...so it must be a pretty good cake.
I don't know if you've figured this out by now or not... But I can't follow a recipe exactly. I'm always modifying recipes as I make them. Most of the time it works. However, some of my modifications have ended not so great... TLS recipes. Last week JP and I had a
tasty
honey curry pasta salad. It was... well... a TLS recipe. Hopefully my changes will work their magic this time! I'm planning on cutting back on the sugar in the cake and frosting, using half whole wheat flour, half white flour, substituting applesauce for some of the oil, using half the amount of pecans, adding some crushed pineapple, coconut and nutmeg. So basically, I'm changing the whole recipe.
Here's the original recipe. I'll post my adaptations and my review (hopefully it won't be branded TLS) after I make it. It's supposed to
cool down
to a balmy 95 degrees for the next few days, so I can bake and not worry about my AC bill. bahhhaahahhhaaaah
| | |
| --- | --- |
| Rated: | |

Prep Time:

30 Minutes

Ready In:

2 Hours

Submitted By:

Tammy Elliott

Cook Time:

1 Hour

Servings:

18
"I've tried many carrot cakes, and this is my favorite recipe. If you don't like pecans, feel free to leave them out."
4 eggs

1 1/4 cups vegetable oil

2 cups white sugar

2 teaspoons vanilla extract

2 cups all-purpose flour

2 teaspoons baking soda

2 teaspoons baking powder

1/2 teaspoon salt

2 teaspoons ground cinnamon

3 cups grated carrots

1 cup chopped pecans

1/2 cup butter, softened

8 ounces cream cheese, softened

4 cups confectioners' sugar

1 teaspoon vanilla extract

1 cup chopped pecans
| | |
| --- | --- |
| 1. | Preheat oven to 350 degrees F (175 degrees C). Grease and flour a 9x13 inch pan. |
| 2. | In a large bowl, beat together eggs, oil, white sugar and 2 teaspoons vanilla. Mix in flour, baking soda, baking powder, salt and cinnamon. Stir in carrots. Fold in pecans. Pour into prepared pan. |
| 3. | Bake in the preheated oven for 40 to 50 minutes, or until a toothpick inserted into the center of the cake comes out clean. Let cool in pan for 10 minutes, then turn out onto a wire rack and cool completely. |
| 4. | To Make Frosting: In a medium bowl, combine butter, cream cheese, confectioners' sugar and 1 teaspoon vanilla. Beat until the mixture is smooth and creamy. Stir in chopped pecans. Frost the cooled cake. |
| | |
| --- | --- |
| ALL RIGHTS RESERVED © 2010 Allrecipes.com | Printed from Allrecipes.com 8/3/2010 |