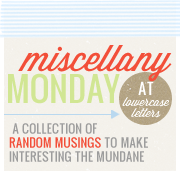 Miscellany Monday...
1. My child is sick. This is day 4 of fevers, cough, sore throat and headache. Since he was born, JP has never been a sleeper. This is day 4 of napping. Something is wrong when he ASKS to take a nap. I took him to the doc today...of course, the ONLY appointment available is with the doc I don't like. However, my fingers are crossed that the antibiotics will kick all of the germs out of his body.
2. The cookies from the
cookie challenge
are calling my name.
Jen,

Jen,

JEN!

Come here to the kitchen. We are soft, yummy, chocolaty and we know you want us.
This is yet another reason I hate baking cookies. They torment me from the kitchen.
3. I can feel my dissertation deadlines starting push and crowd me.
4.
Tator Tot Casserole
for supper! Yum! It is one of my favorite comfort foods! Can't wait to make it!
5. One of the shrubs in my front yard has little green buds on the branches. Spring is on it's way~