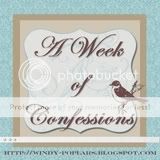 Over at Windy Poplars, Kristin is leading a "Confession Week." Today is "Food Confessions." Hmmm, I think I might have one or two... or three... OK, I might have a few. So head over to Windy Poplars, grab the linky and post your food confessions!
We're defining "confession" this week as: something that makes you, YOU! A quirk, a passion, a bad habit, a good habit, etc. It might even be something obvious, but more likely something we'd never guess about you!
When it comes to grocery shopping, I try not to be a label snob. I know off brand labels are cheaper to buy. The Walmart or Kroger brand can be so much cheaper, but there are a few things that I will pay extra for.
Mayo:
Hellman's or Best Foods (depending on which side of the Mississippi River you live on)
Ketchup:
Heinz
Cooking spray:
Pam
Toothpaste: Crest (it doesn't matter what kind, it just has to be Crest! OK, I know that toothpaste isn't food, but I buy it at the grocery store)
Mac and Cheese: Kraft
Tortilla Chips: Tostitos
Cereal: Cheerios (Toasty O's just don't taste the same!)
Creamer: Coffee Mate liquid. It doesn't matter what flavor, just as long as it's Coffee Mate!
Orange juice: Minute Maid
Chocolate Chips: Toll House
There are a few other things, but this is my list offhand!
Another grocery store confession. I'm a little embarrassed about this one... but... here it goes.... I judge people by what is in their grocery cart. I do! Really! Don't come around me if you see me in the grocery store! If your cart (or buggy...depending on where you live) has loaves of white Wonder bread, Ramen soup, processed food, more than a 12 pack of soda (or pop...again, depending on where you live) or junk food, I will raise my eyebrows at you. I'll compare my cart and the goodness of whole wheat bread, whole foods and veggies with your cart of not so healthy junk. Whew... there, I confessed it.
I love leftovers! A lot of times, food tastes better the second day!
I love looking at cooking/kitchen magazines and catalogs. Cooking Light, King Arthur Flour, Penzies, Penzies One, Chef Catalog, William-Sonoma, Sur LA Table, just to name a few. I also love to look at the kitchens in Home Depot or even in magazines ads and pick out elements of my dream kitchen.
I love sharing recipes! I know people who dread cooking and often eat out, or eat prepackaged meals. It's easy, cheaper and so much better for you to cook at home...OK, sometimes it's not easy... But home cooked food usually tastes so much better than prepackaged stuff. I'm glad to share my recipes with anyone so they can make awesome food at home.
Ok, that's it! I could go on and on about food, but I'll stop here...these are my most interesting! Have a great day, and happy cooking!